Zero risk computing....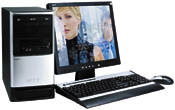 Specialist Educational IT Support
Why use TGK Services for your School ICT Support
TGK Services have been specialists in educational ICT support for Primary Schools for over 8 years.
TGK Services has an excellent working knowledge of School needs and requirements.
TGK Services have successfully designed maintained and implemented Windows 2003\2008 Server networks and 2000, XP, Vista and Windows 7 workstation environments.
TGK services have specialised skills in the following areas and are able to offer the following:-
Design, maintain and implement Windows 2003 Server and XP workstations environments.
Provide Pupils and Teachers with their own networked file storage and shared areas, plus their individual settings of important configurations such as Internet access.
Maintenance of backups.
Manage users, file share & permissions.
Ensure the smooth running of all ICT systems, including anti-virus software, critical updates, print services and email provision.
Installing and testing of software before deployment to network.
Provide Web Design Assistance where required.
Maintain, upgrade and recommend hardware where appropriate
Installation and repair of Servers, PC workstations, laptops etc
Liaise with third party suppliers to obtain quotations
Maintain computer peripheral equipment such as scanners, printers, whiteboards, and projectors; ensure that these are prepared and ready to be used.
Assist the ICT Co-coordinator in the deployment of computer hardware around the school
Manage crisis situations, which may involve complex technical hardware or software problems.
24hr max response for non critical faults, 8hr max response for critical faults
We offer a range of support contracts which we aim to fit the needs of each individual school and, ideally, we like to make our support proactive rather than reactive. Support contracts usually consist of a series of regular and friendly visits.
To discuss your requirements please contact us.
---
Choose TGK to make sure your school gets the right support to run smoothly.
Contact us today using the email or telephone details at the top of this page